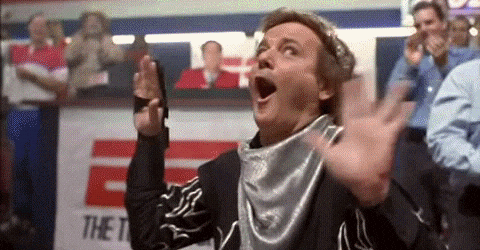 So the other day I was at the car shop getting my front tires replaced. (ugggghhh amirite?) Anyway, there were two guys sitting across from me and one was wearing a Captain America shirt and the other was wearing a Superman shirt. So duh, of course, we got into an excellent conversation on Marvel vs DC, and the awesome Marvel movies that are coming out and how DC is doing its best to keep up and all that fun stuff. It was fun, because I often get this like,
uh...calm down
look from people but these guys were like, "Yeah! And Captain America Two was great!" and then I was all, "Sorta, but number one was so much better!" and they were like "And Ultron was kinda disappointing!" and then I said, "We just totally need Tom Hiddleston back to play like all the supervillains!" etc, etc.
I started my Poe class today asking if anyone had seen last nights season premiere of Downton Abbey (HAVE YOU? HAVE YOU?) and one guy said he hadn't, but was sort of familiar with it and then I went on about how he should totally watch like all of it except totally skip season 4 except for the last few episodes. When I got done talking my professor was just looking at his books and grinning. I tend to do that to people a lot. Then during class we were talking about one of Poe's stories and I said something and he said, "Like John Lock in LOST," and I was like "OMG I LOVE LOST CAN I WRITE ABOUT POE AND LOST IN MY FINAL PAPER," and he was like, "Well probably writing about Borges and LOST would be better" and I was like "OKAY I'LL DO THAT."
Anyway, I'll sit down know. Except THE NEW MUPPETS SHOW PREMIERES TONIGHT. So no. No I won't.
Write on!
Sarah
For more frequent updates, writing tips, and funnies, follow on
Facebook
,
Twitter
,
Google+
,
YouTube
,
Pinterest
,
Tumblr
,
GoodReads
, and/or
Instagram
. Or if you enjoyed this post,
sign up
to get blog posts delivered to your inbox.